Dr. Arthur C. Clarke, C.B.E. celebrates his 80th birthday on 1997 December 16.
This tribute by Richard Boyle explores a series of selective events that typify Arthur C. Clarke's interaction with Sri Lanka, his adopted home for the past 41 years–the 'Sri Lanka factor' in the life of this famous author.
Exactly twenty years ago today I set out from Colombo with Swami Siva Kalki (Mike Wilson) on a journey to Kandy where we hoped to write a significant science fiction screenplay in the seclusion of Udawattakelle. I was driving an antiquated, almost brakeless, Volkswagen Beetle, which had been loaned to us by the instigator of the project. As we proceeded down Kynsey Road, Swami Siva Kalki suddenly shouted at me over the din of the sick engine, 'Quick! Turn down Barnes Place!' Simultaneously I yanked at the slack wheel and pumped at the nonexistent brakes. We careened into Barnes Place, narrowly missing an assortment of humanity.
'It's Arthur's sixtieth birthday in a couple of days! We must wish him all the best before we go to Kandy!' Swami Siva Kalki said to me by way of explanation as I recovered control of the car- and my composure. 'Besides,' he continued oblivious to my protestations about split-second decisions, 'we should get his blessings for our project.' As I parked the car outside the house of Arthur C. Clarke arguably one of the most influential science fiction authors of all time I wondered whether he would have sufficient mental space to show any interest in our project. But then I consoled myself with the thought that Swami Siva Kalki had known Arthur Clarke for a quarter of a century and that for a fair portion of those years he had been Clarke's close friend and occasional creative collaborator.
Arthur as I shall henceforth informally yet respectfully refer to him (believing that 'Clarke' or 'Dr. Clarke' sounds too removed) greeted us in his study with a meaningful grin. It was that type of grin, a mixture of relief, ecstasy, triumph and sheer satisfaction - which tells you when it adorns that face of a writer, that he or she has finished a major work and is now experiencing post-delivery euphoria. 'Your arrival couldn't be better timed' he informed us, 'because today I have finished the first draft of my new novel "Fountains of Paradise".'
Before Swami Siva Kalki or I could react to the good news of the completion of 'Fountains of Paradise,' Arthur's euphoria seemed to ebb, and he announced in a more sombre tone, 'I have to tell you that it's going to be my last book - positively the last!' I remember sitting there feeling stunned, unable to comprehend a world without any new works of science fiction by one of the great masters of the genre. Twenty years later, in the glow of the recent success of 3001, the world can take comfort from the fact that was one of Arthur's prophecies which did not come true.
Yet in 1978, Arthur had declared: 'There's nothing more I want to write, fiction or nonfiction. And I don't have to if I don't want to'
Many years later I was reminded of our meeting when I read in Neil Mc Aleer's Odyssey: The Authorised Biography of Arthur C. Clarke (1992): 'Arthur always felt a sense of elation when he finished a work, and the feeling had a decided influence on how he perceived any recently completed book. He was especially pleased with Fountains of Paradise because his beloved tropical island played such an important part in it.'
Indeed it did. Transparently disguised as 'Taprobane' ('about 90 per cent congruent with Ceylon,' says Arthur), the island is the setting for this dramatic story of the construction in 2142 A.D. of a Space Elevator to facilitate the transportation of astronauts and materials to a point outside the earth's atmosphere. In order for this awe-inspiring conception to become reality, a major obstacle has to be tackled. There is only one location on earth suitable as the site for the project - the peak of a sacred mountain, inhabited since time immemorial by Buddhist monks. How their resistance is overcome, and what happens when the Elevator begins to tower into the sky, forms the basis of this absorbing tale.
For those with a knowledge of Sri Lanka the novel holds the prospect of much more than just an excellent science fiction story. Such readers find themselves in familiar terrain, able to appreciate fully the historical, cultural and spiritual nuances of the story. Indeed the background is most convincingly sketched in with vivid life and colour, unlike, for instance, another novel (albeit non-science fiction) by an Englishman with a Sri Lankan setting - Dennis Wheatley's Dangerous Inheritance (1965).
At the time of the publication of Fountains of Paradise, Arthur was quoted in London's Guardian as saying that, 'It's the most ambitious thing I've ever done. Everything is in it: Buddhist philosophy, ancient history, the ultimate space transport system - the two main locales are awe-inspiring places.' For the uninitiated, the 'two main locales' are Sri Pada and Sigiriya - with slight modifications.
As Arthur admits in the Afterword: 'I have made three trifling changes to the geography of Sri Lanka'. One of these changes reflected the early geological history of Sri Lanka when it became disconnected from Gondwanaland and was drifting northwards to its present position: 'I have moved the island eight hundred kilometers south, so that it straddles the equator - as indeed it did twenty million years ago, and may some day do again.'
The second and third changes concerned the height and location of the Sacred Mountain, renamed 'Sri Kanda' by Arthur. This fictional version of Sri Pada is double the height and it has been moved closer to 'Yakkagala' - Arthur's Sigiriya. He states that the reality of Sigiriya is 'so astonishing that I have had no need to change it in any way'. Nevertheless, Arthur did take 'a liberty', as he put it, over the chronology of Sigiriya's construction and occupation by King Kasyapa claiming that it seems incredible that so vast an undertaking could have been carried out in a mere eighteen years by a usurper expecting to be challenged at any moment'.
It is a matter of regret that Arthur has set no other science fiction novel in Sri Lanka - but then Fountains of Paradise would be a hard act to follow. In fact, as I have noted elsewhere, Fountains of Paradise is the only science fiction novel to feature Sri Lanka. And the only other work of science fiction to make reference to the island in any way (and that, admittedly, is only to its undersea pearl banks) is Jules Verne's Twenty Thousand Leagues Under the Sea (1869).
Excerpts of Fountains of Paradise were published in the January 1979 twenty-fifth anniversary issue of Playboy magazine. One photo of the summit Temple of Sri Pada carried a caption stating that it was Arthur's home. This bizarre mistake was picked up by a local newspaper in a report headed 'Playboy's Biggest Boob'. 'I remember commenting they usually came in pairs!' Clarke told me recently.
One question regarding Fountains of Paradise remains. Will it ever be turned into a Hollywood movie, especially as nearly two decades have slipped by since it was first published? For the sake of authenticity, any cinematic rendition of the novel would have to be filmed on location in Sri Lanka even though much studio and special effects work would have to be undertaken elsewhere.
Amazingly from the time of Elephant Walk way back in the early 1950s, no Hollywood movie has used Sri Lanka as an actual location rather than as an anonymous tropical backdrop. As a former location consultant I always endeavoured to promote film projects featuring stories set in Sri Lanka, so I for one would be very pleased if Fountains of Paradise made the transition to the big screen.
The film rights of Fountains of Paradise have been optioned several times. This is nothing unusual. In fact another of Arthur's novels, Childhood's End, has been the subject of Hollywood interest for the past thirty years. (The director John Frankenheimer, for instance, was one who was very keen to turn the complex book into a movie.) Let me demonstrate the fickle nature of the industry. In 1982 a local newspaper announced that the American producer Robert Schinela had optioned the rights and was to begin production soon. 'This film is sure to give Sri Lanka the best possible exposure in the world', Arthur was reported as saying. Indeed it would. If it were ever made....
But to begin at the beginning, Arthur's 'Lanka Saga' really commenced in November 1954, when the Himalaya set sail from London to Australia with the 36-year-old writer on board. The objective was to join up with Mike Wilson (his friend of several years who had introduced him to diving) on an expedition to the Great Barrier Reef. In December, the ship docked for half a day at Colombo. This gave Arthur the chance to see a little of the city in the company of two people whose mutual friends had suggested he look up them.
One was Major R. Raven-Hart O.B.E, who was resident in Ceylon during the 1950s and 1960s. Arthur rates him as one of the most unforgettable characters he has ever met, a fusion of Arthur Conan Doyle's Professor Summerlee and the traveller, Sir Richard Burton. Raven-Hart fascinates me as I heard intriguing stories about him from Mike and I admire his books, especially Where The Buddha Trod (1956) and Ceylon History in Stone (1964).
The second person Clarke made contact with during his brief visit ashore was Rodney Jonklaas - another remarkable character in his own right. Jonklaas, who was at the time Assistant Director of the Dehiwala Zoo, suggested that Arthur should come back to explore the seas of Ceylon once he had finished with the Great Barrier Reef. Making no promises, Arthur sailed away from his fateful first encounter with the island.
Arthur arrived in Melbourne and teamed up with Mike Wilson, who had already spent some months in Australia diving for pearls and working as a film extra. After various adventures above and underwater, a number of articles with Mike, and at least one book, (The Coast of Coral), 'The Isle of Ceylon Beckoned,' as McAleer puts it. 'The beautiful memory of a single afternoon in December 1954 enticed Aruthur to return. He and Mike decided that their next underwater adventure would be in the crystal waters of the Indian Ocean off Ceylon's coast.'
After ten months in Australia, they travelled to New York and London to meet with literary agents and to equip themselves for the expedition. Finally they arrived at Colombo aboard the Orcades in January 1956. Rodney Jonklaas was there to meet them and help them settle in. They stayed initially at the Grand Oriental Hotel but then moved to a flat at Indra Lane, Bambalapitiya. Arthur's first months in Ceylon were, as McAleer states, 'fascinating and intellectually exciting. Because he loves to learn and explore, all the cultural differences, as well as the island's history, stimulated his mind and imagination.'
Soon after their arrival, Arthur and Mike headed down south with Rodney Jonklaas to commence diving operations. First stop was Akurala Reef where they investigated the wrecks of the Conch and the Earl of Shaftesbury. They then moved on to Weligama and Tangalle. It was the start of a pioneering period in the short history of underwater exploration around the island. In the space of a few years, the three of them researched, located and explored dozens of wrecks, many of historical significance. In contrast, they also dived on the Aeonos - just five days after it sank in March 1956.
These early explorations culminated in 1961 with Mike's discovery of a wreck of unknown origin on the Great Basses Reef containing several cannon and thousands of silver Moghul rupees, all dated 1702. Following discussions with David Attenborough at the B.B.C, Mike was contracted by the Corporation to make a documentary on a fresh exploration of the wreck mounted in 1963. The film was called Treasure of the Great Reef and was included in the 'Adventure' series. The narration was by Arthur, who also wrote a book of the same name, published in 1964 and with a revised edition ten years later
The book, Treasure of the Great Reef, is Arthur's only work of nonfiction concerned exclusively with Sri Lanka. Apart from being an account of the expedition, the book has a host of excellent photographs by Arthur, Mike and Rodney. Another nonfiction work The View From Serendip (1978), which mainly consists of speculations on space, science and the sea, also contains fragments of what the publishers call an Equatorial Autobiography. In chapters such as "Concerning Serendipity" "Servant Problems Oriental Style " and "The Scent of Treasure", Arthur describes his early years in the island .
Shortly after Arthur's arrival in Ceylon he began what was to be the first of many novels written in the imagination-enhancing atmosphere of the island. Recent years had seen the publication of the impressive Earthlight and Expedition to Earth. Appropriately enough his new novel, Deep Range, was an undersea story of ocean farming and whale ranching, which was dedicated to Mike, 'who led me to the sea and pulled me out of it'. This novel demonstrated that Buddhism was beginning to attract his attention. 'With the failure or weakening of its three great rivals,' he wrote of the future, 'Buddhism was now the only religion that still possessed any real power over the minds of men.'
Ceylon soon began to weave its inimitable magic spell on Arthur, a spell that has bewitched so many visitors ( including myself ), enticing them to throw up former existences. In May 1956 he announced to a friend, 'I have made up my mind - I'm settling in Ceylon and commuting once a year to the U.S . The contrast between here and England is fantastic, and it's strange to feel free after all these years. Maybe a couple of months in Ceylon will be all I can take - will need the remaining ten to recover.'
Arthur of Serendip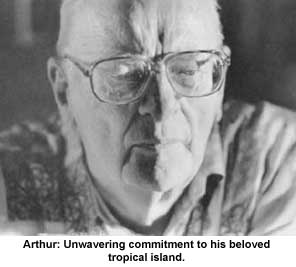 Arthur received an introduction to a feature film production in Sri Lanka in 1961 when Mike Wilson, Sesha Palihakkara and he set up Serendib Productions and set out to make Ranmuthu Duwa. This film is the holder of a number of 'firsts' in Sinhala cinema history: among other things, the first full length feature film in colour, the first to incorporate underwater sequences, and the first to have an Englishman (Mike) as director.
Although not directly involved in the production, Arthur was supportive in many ways, and has always been one of the film's most ardent advocates. 'I have never grown tired', he once exclaimed, 'of watching the scenes of dawn over the great temples, the sea-washed cliffs of Trincomalee, the lines of pilgrims descending Adam's Peak, and the mysterious underwater sequences.' Even today, thirty-six years after it was made, Arthur retains enough enthusiasm for Ranmuthu Duwa to want to arrange a re-release.
In July 1962, at the time of the release of Ranmuthu Duwa, Arthur wrote several publicity articles for the local press describing Mike's discovery of the Great Basses wreck and the role the treasure plays in the film. 'The fantastic discovery of genuine sunken treasure inspired Mike Wilson to make Ranmuthu Duwa, and the coins and the cannon appear in the film,' Arthur wrote, suggesting that, 'it is probably the first feature film in the history of cinema to be made with genuine treasure.'
Of course Arthur's involvement in the Sinhala film industry goes beyond Ranmuthu Duwa. He also supported Mike's other feature films, Getawarayo and Jamis Banda (For example, Arthur was responsible for procuring a sample SS uniform from London for the latter film!) Much later, in 1979, he acted in Lester James Peries' adaptation of Leonard Woolf's novel Village in the Jungle. Arthur played the part of Woolf the young district magistrate at Hambantota. As nearly two decades have passed, I can now admit that at the time I felt (on account of age at least) I was more suitable for the part!
Since the 1970s, Arthur has made an indelible mark as a TV presenter with such series as Arthur C. Clarke's Mysterious Universe and Arthur C. Clarke's Mysterious World. Lingering shots of Arthur walking under the shade of an umbrella along Sri Lanka's beaches and through her archaeological ruins, while expounding on some scientific mystery or another, are now etched on the memory of audiences worldwide. During the last decade or so he has also become one of the world's leading exponents of the satellite television interview and conference address. The introduction, 'Now here's Dr. Arthur C. Clarke, by satellite from Colombo, Sri Lanka...' has become a familiar refrain.
Television producers have flocked to Colombo, beating a well-trodden path down Barnes Place in quest of the ultimate interview with the doyen of science fiction writers. Some of these producers have been more imaginative than others. When Roger Caras came in August 1982 to film a segment for ABC TV's 20/20 he interviewed Arthur while they were both riding elephants. The segment begins with a brief description of Sri Lanka and visuals of the Kandy Perahera. Arthur informs his audience, 'Many of the elements of Sri Lanka, including its mystical and religious elements, even if I don't necessarily agree with them, I respect them and I have worked them into my books.'
Arthur's versatility in front of the television camera extends to commercial-making as well. For instance, in 1976 on the centenary of the invention of the telephone, he featured in a series of commercials on the theme of telecommunications development up to the year 2076. Arthur was filmed delivering his thoughts on the subject against the striking backdrops of Sigiriya, Anuradhapura and Polonnaruwa. 'Five hundred years before Columbus,' Arthur spoke of Polonnaruwa, 'this was the ancient capital of Ceylon and one of the great cities of the world. Engineers and artists of genius laboured here, men as brilliant as any alive today. But they lacked something that we now take for granted. They could not speak to each other beyond the range of a shout.'
In 1975 Arthur had made television history when the Indian government gifted him a satellite receiving station, hundreds of which were scattered in remote communities around the country and formed India's Satellite Instructional Television Experiment (SITE). It was the only privately owned Earth Satellite receiving station in the world and Arthur had the only television set on the island at that time. 'Lanka's link with unique TV venture,' ran the headline in one local newspaper. 'India's gesture to Arthur Clarke, world's first private home to have reception unit.'
As Sri Lanka's only provider of television programming of any sort, Arthur took his duty seriously. 'I am now inviting the Prime Minister, leading government officials etc., to come and see the programmes,' he wrote to a friend, adding, 'Although I shall be leaving Sri Lanka for two months, I will make arrangements for continued viewing during my absence.' However, things soon got out of hand. 'House now looks like Jodrell Bank,' he wrote a while later to another friend. 'Getting dozens of visitors a day and it will increase,' he correctly predicted.
Over the years, many famous authors, scientists, film-makers and personalities of every description, have been drawn to Sri Lanka in order to visit Arthur. In January 1970, for instance, it was Gore Vidal who arrived. Arthur took the celebrated writer on a trip to Unawatuna. However, the journey nearly turned out to be a terrible disaster - due to an experience that will appear entirely plausible to anyone who frequents Sri Lanka's highways.
'We were driving down the main road going south, and there was a Ceylon Transport Board bus in front of us,' wrote Arthur. 'Suddenly the entire back axle and differential came out and started cartwheeling down the road towards us, like a drum majorette's baton. And it came to rest only a few feet ahead of the car. An extraordinary thing. Luckily no one got hurt.' Later, Arthur jokingly admitted, 'As a hundred kilograms of metal bounced closer and closer, I unselfishly prayed that the world of letters would not sustain a major loss.'
Do you remember the state of communications in Colombo during the early 1970s? It was a place where obtaining a photocopy was a major endeavour, where making an overseas telephone call was a long-winded affair and where, of course, there was no television. The facsimile, the mobile phone, satellite television transmission and the Internet are just a few of the manifestation of the communications revolution that would have been hard to conceive of by the average person back then. Colombo was hardly at the cutting edge. Yet over in Barnes Place there was a person who was able to predict all these innovations and more (although he prefers to call the process 'extrapolation').
To demonstrate how accurate Clarke can be, let me quote from an article of the period in which he lists a few of the services which will be available by 2001 - not in the office or factory, but in every home:
'Direct TV reception, via satellite, from all major countries....'
'Telephone calls between all locations and even moving individuals everywhere on earth...'
'Facsimile services whereby letters, printed matter, etc., can be reproduced instantly...'
'Immediate access via simple computer-type keyboards, and TV displays, to all the world's great libraries and information centres. Any items needed for permanent reference could be printed off or filed magnetically.'
On the subject of the Internet, have you caught up yet with Arthur C. Clarke in cyberspace? The statistics are mind-boggling. One search engine has 258,700 matches to the name Arthur C. Clarke. A quarter of a million references! Did you know that there is an official Arthur C. Clarke website? Or that there is an Arthur C. Clarke Internet Fan Club running an Unauthorisd Homepage? Much information about Arthur can be gathered this way, and of course Sri Lanka features prominently. Arthur can be seen and heard on the Internet, too. There are audio and video clips of 'Dr. Clarke speaking from Sri Lanka' - for instance on 'the role of information technology, telecommunications and entertainment in K-12 education.'
With such cyberspace dominance it was fitting that Arthur should take part in Sri Lanka's first live 'cybercast' in March of this year. The object was to send birthday greetings to HAL 900, an intelligent computer he envisioned in the book of 2001: A Space Odyssey, which became operational on 12 January at the University of Illinois. Using an Internet video link, 'a digitized image of Clarke, clad in a silver space jacket, was broadcast from Colombo's Cyber Cafe and projected on a large screen at the University of Illinois and simultaneously over the Internet,' ran a Reuter - AP report.
Although Sri Lanka, as Andrew Robinson recently expressed it, 'does not impinge much on his prolific best-selling fiction and non-fiction,' Arthur has nevertheless written some notable and quotable pieces extolling the island's virtues for the modern traveller. Possibly the best piece of this nature he wrote for Roloff Beny's Island Ceylon (1970), that perennial coffee-table book about the country.
'It may well be that each of Ceylon's attractions is surpassed somewhere on Earth,' Arthur writes in the epilogue. 'Cambodia may have more impressive ruins, Tahiti lovelier beaches, Bali more beautiful landscapes (though I doubt it), Thailand more charming people (ditto). But I find it hard to believe that there is any country which scores so highly in all departments - which has so many advantages, and so few disadvantages, especially for the western visitor.'
A similar passage I have always liked, which was written for British Airways, makes the important point that the island is a veritable microcosm - and that visitors should quit Colombo if they wish to see the real country.
'The Island of Ceylon is a small universe; it contains as many variations of culture, scenery, and climate as some countries a dozen times its size. What you get from it depends on what you bring; if you never stray from your hotel bar or the dusty streets of Westernized Colombo, you could perish of fulminating boredom in a week, and it would serve you right. But if you are interested in people, history, nature and art - all the things that really matter - you may find, as I have, that a lifetime is not enough.'
Arthur becomes quite philosophical when he writes of his personal relationship with Sri Lanka. In an article for the London Observer for instance, he discusses the significance of the two principal beaches in his life. One is Minehead, where he grew up, and the other is Unawatuna, which he discovered much later in life:
'One day, after a lecture somewhere in the American Midwest, a young lady asked me just why I liked Ceylon. I was about to switch on the soundtrack I had played a hundred times before, when suddenly I saw those two beaches, both so far away. Do not ask me why it happened then; but in that moment of double vision, I knew the truth. The drab, chill northern beach on which I had so often shivered through an English summer was merely the pale reflection of an ultimate and long-unsuspecting beauty. Like the three Princess of Serendip, I had found far more than I was seeking-in Serendip itself. Ten thousand kilometres from the place where I was born, I had come home.'
Then there is the passage from The Treasure of the Great Reef, which reads: 'Though I never left England until I was thirty-three years old, it is Ceylon, not England, that now seems home,' he admits. 'I do not pretend to account for this, or for the fact that no other place is now wholly real to me. Though London, Washington, New York, Los Angeles are exciting, amusing, invigorating and hold all the things that interest my mind, they are no longer convincing. Their images are blurred around the edges: like a mirage, they will not stand up to detailed inspection. When I am in the Strand, or 42nd Street, or NASA headquarters, or the Beverly Hills Hotel, my surroundings are liable to give a sudden tremor, and I see through the insubstantial fabric to the reality beneath.
'And always it is the same; the slender palm trees leaning over the white sand, the warm sun sparkling on the waves as they break on the inshore reef, the outrigger fishing boats drawn up high on the beach. This alone is real; the rest is but a dream from which I shall presently awake.'
Of course events of the past two decades have meant that Arthur has had to contend with something of a Lost Paradise (see his recent piece on Nihal Fernando's A Personal Odyssey), where his 'slender palm trees' have been bulldozed to make way for yet another shoddy hotel; where his 'beautiful landscapes' have become scarred by development and erosion; where his 'charming people' have become brutalized and stunted by incessant conflict and violence.
Arthur's latest book, a selection of his essays titled Greetings, Carbon-Based Bipeds!, has a dedication that confronts the prevailing realities of Sri Lanka. It reads: 'To Vice Chancellor Professor C. Patuwathavitane, killed while serving his students, and to the children of Sri Lanka's lost generation, remembered only by those who loved them. 'Good or bad, guilty or innocent - they are all equal now."'
Arthur is one of a small but celebrated band of British writers (others include D.H. Lawrence and Anthony Burgess) who have led fulfilling and enriching expatriate lives. Expatriates will tell you that they are often asked why they left the Motherland, and as if to test the wisdom of their decision, they are then asked how they rate their adapted countries. Because of adverse publicity and false perception, particular interest is shown in those who have chosen Sri Lanka - unfair though that might be.
Books have even been written on the expatriate experience. In Passport to a Better Life? (1995), edited by James Lawrence, the Sri Lanka section features a contribution by Arthur - the British Airways article quoted from earlier. My contribution to this publication ends: 'So here I am, trying to make sense of a paradoxical island; beautiful, exasperating, ultimately serendipitous, it is a place like no other.' It is a sentiment that I suspect is shared by Arthur.
One does not spend 41 years in an adopted country without becoming inextricably wound up in its fate, and Arthur is no exception. Over the passage of time he has shown consistent concern for the future direction, well-being and prosperity of Sri Lanka. Whether it be his pioneering underwater explorations, his eloquent writings, his magnificent contribution to the Arthur C. Clarke Centre for Modern Technologies, or even his occasional newspaper correspondence on subjects as diverse as daylight saving and Paranavitana's interlinear inscriptions, Arthur has shown an unwavering commitment to his beloved tropical island. He is, without doubt, 'Arthur of Serendip.'
Many Happy Returns, Arthur of Serendip!
Congratulations on completing 80 orbits around the sun!
---
'Arthur Clarke is one of the true geniuses of our time. I envy him, his brain'.
-Ray Bradbury.
'The career of Arthur Clarke is one of the most dazzling success stories of the 20th Century'.
-Colin Wilson.
'Nobody has done more in the way of enlightened prediction than Arthur Clarke'.
- Isaac Asimov.
'Arthur Clarke made himself comfortable in the 21st century before most people let go of the l9th'.
- F.M. Esfandiary.
'In a world filled with despair and fear, Arthur Clarke has always come down on the side of human possibility against the forces of impossibility'.
-Alvin Toffler
'He has done an enormous global service in preparing the climate for serious human presence beyond the earth'.
- Carl Sagan.
'Arthur Clarke was the first to think realistically about the mathematics of gravitational law in respect to the potential space program'.
R. Buckminster Fuller.
'Arthur Clarke says ideas often have three stages of reaction - first, "It's crazy and don't waste my time". Second, "It's possible, but it's not worth doing". And finally, "I've always said it was a good idea".
– Ronald Reagan
---
Compiled from the online Edition of the Sri Lanka Sunday Times
of 1997 December 14th and 21st .